Ganzentocht naar Zuid Holland (NL) / Geese
excursion to South Holland (NL), 17 December 2017 – Vogelwerkgroep ARDEA
Gids/leiding: Rudy Van Cleuvenbergen & Wim
Roelant
Verslag:
Dr. Nina Dehnhard
On a rather frosty Sunday morning at 8 in
the morning, 14 enthusiastic members of Vogelwerkgroep ARDEA-Natuurpunt Antwerpen
Zuid met under the A12 viaduct at the Boomsesteenweg. In addition to us 14
"ornithomaniacs", we had the company of Clément Hospital, a French student in
Erasmus at the Artesis Plantijn Hogeschool who wanted to document the
interaction between humans and the environment for a photographic art-project –
I am sure we were an interesting bunch of people to study and photograph. After
a bit of shuffling around of people, backpacks and telescopes, we left with
four cars to our first destination in the Oudeland van Strijen south-west of
Dordrecht. The expectations were high: lesser white-fronted geese (dwerggans)
from a re-introduction program in Sweden are traditionally wintering with
barnacle geese (brandgans) in the area. In addition, observations of a
red-breasted goose (roodhalsgans) and several cattle egrets (koereiger) had been
registered with waarneming.nl in the last days.
The frosty and rather slippery conditions
(along with clear blue sky and sun) persisted at our first stop in the Oudeland
van Strijen, where we encountered several hundred barnacle geese and
white-fronted geese (kolgans) and kept eyes out for the lesser white-fronted
geese. While we had to wait a bit longer for this specialty, we found one –
certainly escaped – bar-headed goose (Indische gans) and three cattle egrets,
in a group of sheep. For the next couple of hours we criss-crossed through the
polders of the Oudeland van Strijen, stopping multiple times (a challenge in
regards to parking and not blocking off roads) to search the groups of barnacle
and white-fronted geese for any of the more rare species. Already the second
stop yielded six lesser white-fronted geese, two cackling geese (kleine
Canadese gans; Branta huchinsonii) and
four lesser Canada geese (middelste Canadese gans; Branta
canadensis parvipes). At the next stop, Wim found us two pink-footed geese
(kleine rietgans), but the search for the red-breasted goose remained unsuccessful.
Even though, the shear amount of barnacle geese (in the range of several
thousand birds), white-fronted geese, lapwings (kieviten) and starlings
(spreeuwen; all three species also in the four-digit-range) was impressive. Great
white egrets (grote zilverreiger), grey herons (blauwe reiger), golden plovers
(goudplevier), wigeons (smient), common buzzards (buizerd) and common kestrels
(torenvalk) complemented the list (not to mention the more common species such
as mallards (wilde eend), greylag geese (grauwe gans)…).
On the way to Mariadijk the weather
deteriorated, and our lunchbreak was well timed to evade the only shower of the
day and warm up inside the restaurant with soup, coffee – or just enjoy a
pintje.
At 2 pm, we continued along the
Watergatseweg with a nice mix of different ducks at 't Watergat (slobeend,
krakeend, wintertaling, smient, grote zaagbek) and our only sighting of a
western marsh harrier (bruine kiekendief) of the day. Few hundred metres down
the road the next stop yielded a group of nine adult and one immature tundra
swans (kleine zwaan) in a mixed group of bean geese (toendrarietgans), greylag,
white-fronted and barnacle geese.
Kleine
zwanen , toendrarietganzen, kol-en grauwe ganzen – foto Luc Van Schoor
After some more driving we stopped at the
harbour of Battenoord to have a look at the flamingos that tend to winter here.
Indeed, they were there, a group of 50, but quite far away. Closer-by a group
of barnacle geese with a hybrid of cackling goose x barnacle goose was attracting
those of us with cameras and digiscopes.
Finally, a last stop at the southern end of
the Philipsdam, with the aim to find sea eagles (zeearend). The also present pintails
(pijlstaaart), black-necked grebes (geoorde fuut) and shelducks (bergeend) got
little attention once two eagles had been spotted in a tree next to a nesting
platform, later flying up. A nice finale of the day in the already dwindling
light.
Summary of the day in numbers: a roundabout
10 hour trip, 200 km of driving, a list of 60+ bird species (was this possible
partridge (patrijs) really a partridge? And how many species of flamingo? 😉 –
somewhere in the 5-digit range in regards to absolute numbers of birds seen.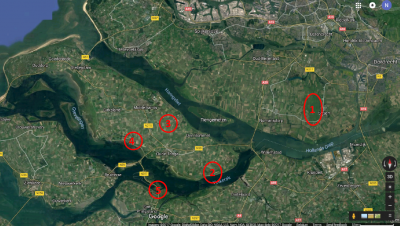 Map showing the overview of our stops. 1 = Oudeland van Strijen; 2 = Mariadijk; 3 =
Watergatseweg; 4 = Battenoord; 5 = Philipsdam. Copyright
GoogleMaps.